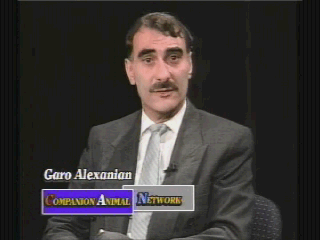 . . . . by my neighbor on Vanderbilt Avenue in Clinton Hill, Brooklyn. A simple call to the veterinarian on his rabies tag confirmed him to belong to an elderly "rescuer" a few doors down. So when I approached her front door to return Rodney to her I was frightened by the sudden thump of the front door slamming shut in my face. So I left and came back a few minutes later, only to have the door not answered even though I saw the curtains move. I tried again and again, until nightfall, and never was the door opened. So I put Rodney in my van for the night, which was barely cool enough to put a living being inside it, thanks to the setting of the hot summer sun. I already had a dog, and being a renter, I could not bring a second dog into my apartment.
The next morning I tried again to return Rodney to his guardian but I was met with the same no response. Where could I turn? Whom could I turn to? Why was it MY responsibilty to deal with this? Why was I feeling responsible for Rodney's life? This was 1989, and the City of New York was killing up to 90% of animals which were found on the street and turned in. How could I lead this gentle boy to his death?
After numerous phone calls I was referred to a group in Connecticut, who said they would board Rodney. I drove the gentle giant 2 1/2 hours and delivered Rodney to the group's vet, who would be boarding him and they said they would find him a home. I continued to send $25 every month toward his boarding for months but then, suddenly one day I was told that they had killed Rodney as no home was found. I was livid. Why would an animal group misrepresent its intentions? Why would they not let me know first? How could they turn a for paid boarding arrangement and a promise to find Rodney a home into a killing? I had learned my first lesson about the plight of animals and "so-called" rescue groups.
I began researching other so-called "rescuers" and "sanctuaries," and the more I learned the more I realized that even dogs and cats are living in a death camp we call Earth. Their lives go from being loved for 10 years to overnight being killed for someone's mere convenience. I could not imagine any worse injustice than the betrayal of a friend due to the re-ordering of someone's priorities.
Thus began my crusade (yes, I admit it) to end the century-old institutionilized mass killings of dogs and cats in New York City. How could I, a thirty something motion picture cameraman with no riches at his disposal, fight a battle of such magnitude? This was a governmental function involving laws from the 1800s and a contract for the killing services which had been in effect for many, many years. I realized that I would be put in a position of being despized by both the contractor and the contractee! I would have to simultaneously fight political and legal wars, as one would undoubtadely lead to the other.
Although seriously doubting my sanity for even considering entering into such a potentially dangerous dynamic, I trusted my inner belief that we all must pay the price for the progress of life. I knew that I had been very fortunate in my life, having been drafted but rejected for service in Vietnam due to my asthma. I also knew that the reason I lived in a free and relatively just country was because of the ultimate sacrifice made by those who fought the Revolutionary, Civil, World, and Korean wars. If I REALLY cared about the mass slaughter occurring every single day at the city contracted animal pound I would have to take the risks and accept the harm which would probably eventually occur to me. My wartime service for my country would be a domestic one.
I began by forming an association with colleagues who also shared the same compassion for dogs and cats. Along with my girfriend at the time, Kathy Brady, I began weekly meetings with Phil Carter, who was the superintendant of an apartment building on the upper East Side, Renate Hernandez, a rescuer from the Bronx who had 20 dogs and 50 cats, and sisters Evelyn Breslow and Diana Sakow, also of the Bronx. The rest is history folks, which you can follow from the links above.
Witness history occurring by taking out some time to watch one of the original video tapes of our meetings in early 1991.
See how we planned, and succeeded, to end the 100 year old animal control contract of New York City, which was given to the Teamsters Union for decades.
See the type of problems you are going to run into in trying to reform animal control services.
Does it remind you of your organization's meetings?

Click on picture to watch videeo