NOTE: Our television program, Companion Animal Network, was the first regularly scheduled animal TV program in history, which premiered in 1994. It is no longer produced but you can watch many episodes on this web site. At that time our focus was to bring public pressure to reform animal control services in New York City, which was killing over 100,000 dogs and cats a year. Having succeed at such, our focus is now to collaborate with New York City to become the first large city in the world to reach statistical no-kill.
Metro New York City

Live call-in or Pre-taped

Weekday

Cable Channel

Broadcast Time
Manhattan

(web simulcast www.mnn.org)

Pre-taped

Tuesdays

34 or 82

11:00PM- 12:00AM

Queens

LIVE CALL-IN

3rd Thurs

34

Queens

Pre-taped

Mondays

56

8:00-9:00 PM

Queens

Pre-taped

Tuesdays

34

4:00-5:00 PM

Brooklyn

Pre-taped

Fridays

34 or 67

7:00-7:30 PM

Staten Island

Pre-taped

Sundays

35

12:00-1:00 AM

Staten Island

Pre-taped

Tuesdays

57

10:00-11:00 PM

Long Island (Nassau County)

Pre-taped

Saturdays

20 and 115 or 34
Why have "Pit Bulls" increased from 1% of the dog population to 6%? Because they are great family pets.
Along with misreporting the state of the economy for decades the mainstream media has misrepresented the amazing story of "pit bulls." This breed had always been referred to as "the nanny dog" and was the dog of choice for kids in TV programs such the East Side Kids. However, the modern media's need to sensationalize the extreme cases of any issue in order to gain viewers and readers has re-identified this gentle breed as aggressive. Meet families who have adopted this breed and hear their experiences. Plus, meet Poochie, a hurricane Katrine rescued Staffordshire.
Dog Fighting Continues to Produce Violent Career Criminals in America

Undercover videotape by the Humane Society of the United States takes us into the dens of the worst of the worst in America, Interviews with proud dogfighters in Louisiana will leave you wondering what kind of country you live in. Despite many university studies which have proven that those who commit animal crimes almost always escalate to human crimes, government and courts still regard dog fighting as a "behavioral" problem rather than the root of numerous evils. The Humane Law Enforcement Division of the Westchester County SPCA is our guest. They present compelling testimony and evidence that when a dogfighter moves into a neighborhood, drugs, violence, and crime always follow as it attracts these despicable elements of society.
Are the Use of Gas Chambers "Torture Killing" of Homeless Family Pets ?

Our efforts to reform municipal animal pounds in Louisiana and North Carolina will leave you breathless. Live dogs try to climb out of 125 degree metal boxes in the summer heat and the lid is closed on their heads, packed in a "cooking" box for 25 minutes, screaming as the carbon monoxide gas pours into the box. Plus, our first hand documentary of what happened to pets during hurricane Katrina entitled "Why Not the Truth." Finally, lighten up and feel good when you watch the video of our monthly life savings rescue adoption transports of puppies from the south to our rescue partner North Shore Animal League, where you can go to adopt a dog or puppy saved from the gas chambers of the United States.
Veterinarian Kevin Kirk answers viewers' questions and gives advice on how to minimize your costs to keep your companion animal healthy

The cost of veterinary services has skyrocketed to an extent that poor people, the unemployed, the underemployed and even many working people cannot afford proper veterinary care. Meet a compassionate veterinarian who will answer your questions and give you good advice on how to proactively keep your companion animal healthy and out of the doctor's office. Learn how to get low cost veterinary services if you are on limited income or if you rescue an animal from the streets or from a municipal animal shelter.
New York City has been credited with making the most remarkable turn-around in the nation in animal control services

The recipient of the first "major city" Maddie's Fund grant, amounting to $9 million dollars over a 7 year period, as well as an additonal $5 million dollar grant from the rejuvenated ASPCA, New York City has reduced its "killing field" from over 100,000 dogs and cats a year to 18,000 in 2007. This historic government-rescue group partnership is being tested in the big apple. Meet the people and see how it has been accomplished. Also, the world premiere of the real life documentary made at NYC animal control, "God Spelled Backwards."
Newspaper's front page article casts doubts on major improvements at NY City Animal Control

The Queens-Brooklyn Ledger newspaper is an eight community newspaper chain who recently ran a major story on New York City animal control. The reporter, Jeremy Harmatz, who wrote the piece sits down for a one on one with Garo Alexanian, host of the C.A.N. TV program, who works closely with New York City Animal Control. Both the good and the bad are discussed with live calls taken from viewers.
Former park ranger wins the right to sue all police in NY State to force them to enforce animal cruelty laws

NY state law mandates that all police, sheriffs, troopers, and deputy sheriffs "must arrest" those commiting animal cruelty, but since no one had ever challenged the 100 year old policy of almost all police department's refusals to do so, the animals had no protection under exisiting law as many, if not most, humane law agencies in the state are dysfunctional. Mark Jurnov sued and the Appellate Court upheld the trial judge's decision to deny the Nassau County police's motion to dismiss.
"Animated Life With Dogs" and interview with Oscar nominated filmmmaker Paul Fierlinger

The Peabody Award winning film "Animated Life With Dogs" in entirety topped off with an interview with Oscar nominated filmmaker Paul Fierlinger. Originally broadcast on PBS, the film is autobiographical as a commentary of the filmmaker's lifelong relationship with dogs, from his life as a pauper in Communist Czechoslovakia

to an educator in the United States.

North Shore Animal League --- Rescue Partner for animals

How do "no-kill" shelters operate? Find out from one of the oldest "no-kill" shelters in the country. Located on Long Island, this organization has been rescuing dogs and cats for sixty years, way before "rescue" was common. Find out the mission of compassion of its founders and how this very successful organization began, expanded, and its nationwide programs.
Off Leash Dog Walking Policies- Safe or Dangerous ?




For the past 15 years New York City Parks allowed off leash dog walking late in the evening until early morning. The record has shown that far fewer dog/person incidents have occurred. Regardless, one civic group chose to lead an effort to take away off leash rights. This interview with the dog guardians who fought back is a model of how to advocate for animals.
Create Political Power for Animals by Exposing Your Politicians' Humane Record




Are animal caring people too "animal focused" to the point of ignoring the need to bring system-wide reform to the killing of shelter animals? By publishing a "Humane Scorecard" each and every City Councilmember's animal compassion, or lack of, is exposed. Find out how to do this in your community and bring REAL reform to the way our cities and towns treat unwanted, neglected & homeless dogs and cats. Find out how to create a "League of Humane Voters" in your community.
Pediatric Allergist and Obstetrician Talk About Children and Pet Allergies and Asthma




Did you know that the latest medical studies reveal that children should be living with pets right from birth in order to assure that the child does NOT develop allergies? Our guests, two specialist physicians on childbearing and childhood allergies, bring the latest information to you. They explain that most general practicioner physicians wrongly advise their patients to "get rid" of pet animals if having young children in the household, when the latest medical research indicates that young children obtain natural immunity if raised with pets right from birth.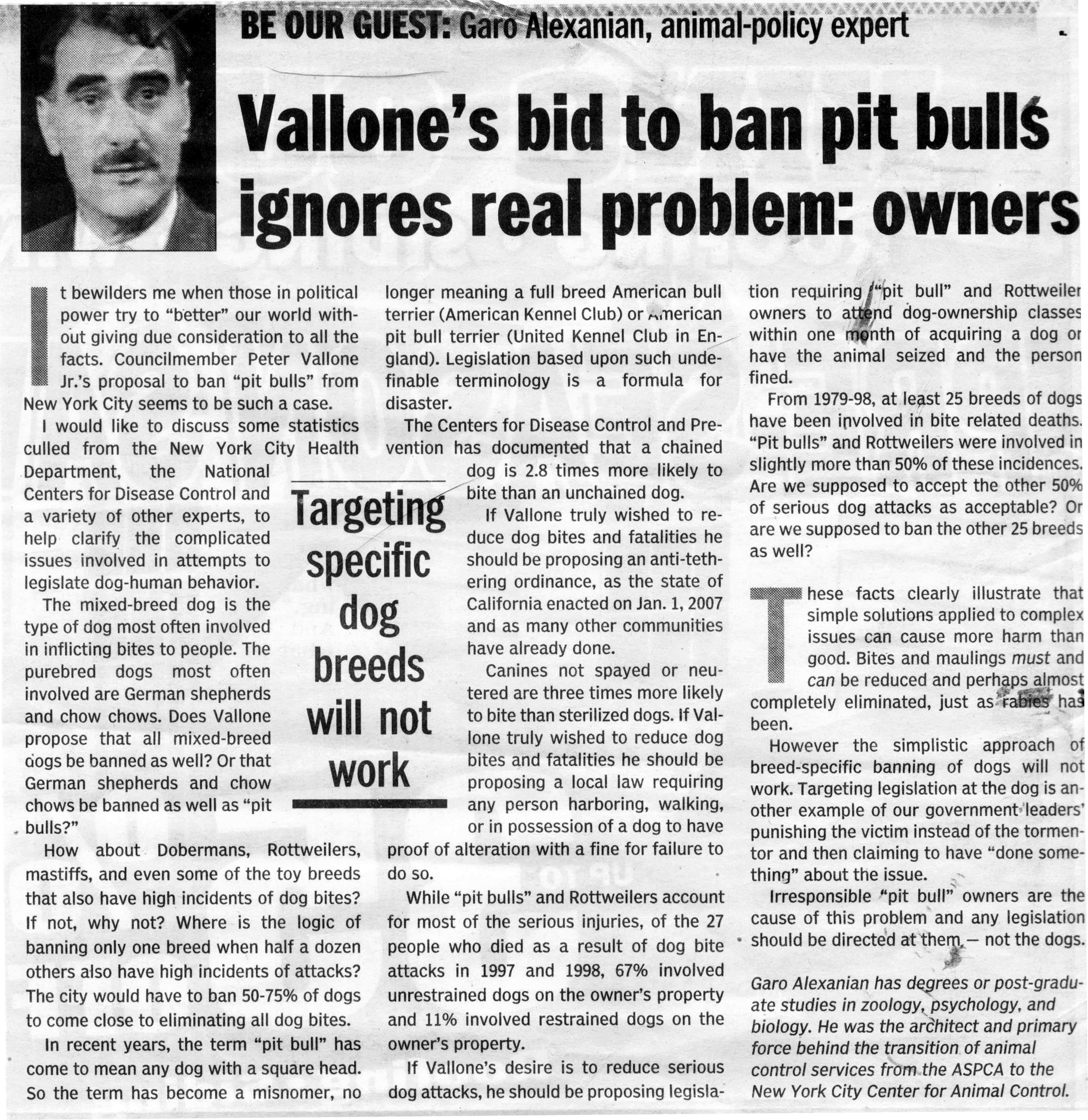 Since May 1, 2005 . . . . . . .
We founded the country's most unique & innovative program in animal control . .

.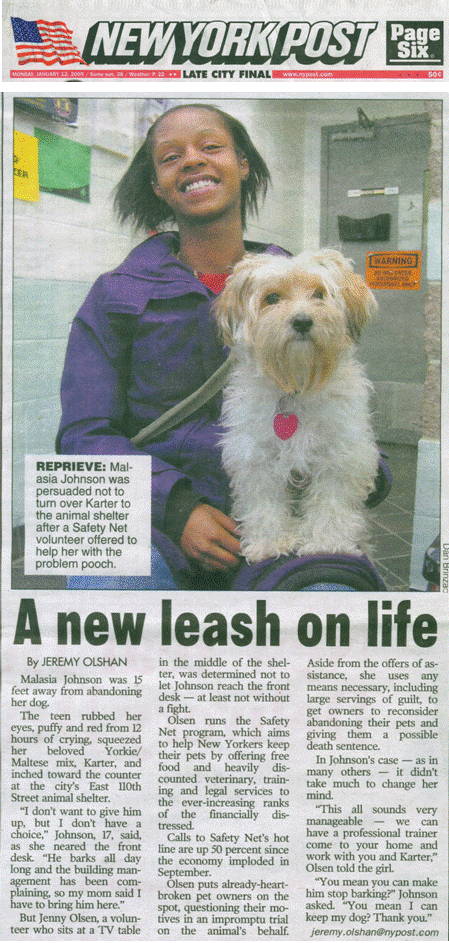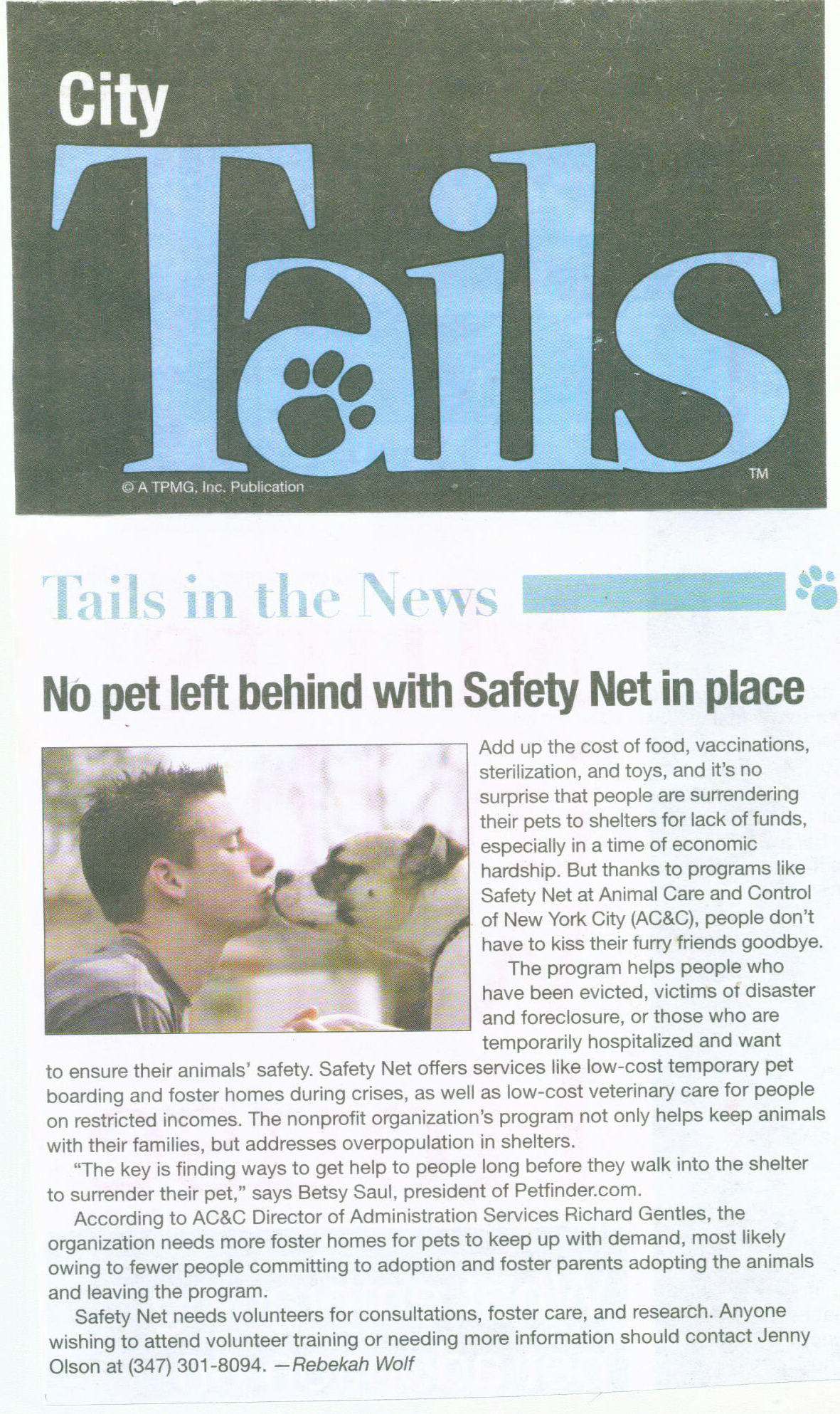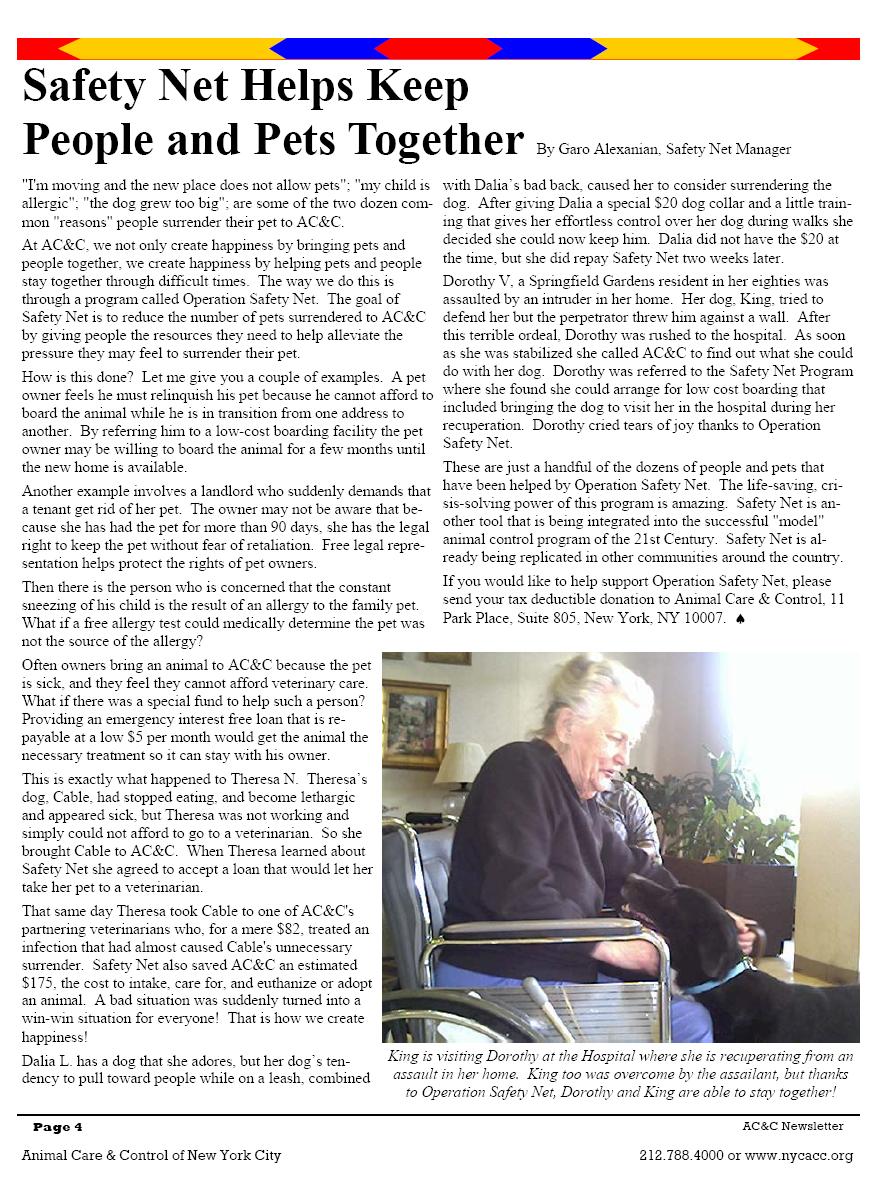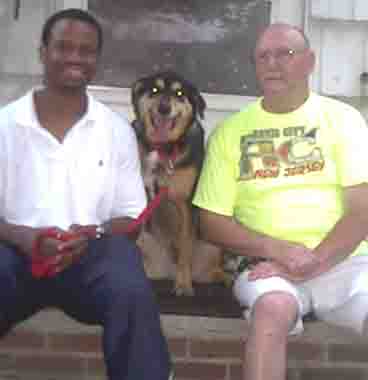 THE STORY OF SEAN AND BOO WOO
It was May of 2005 and Sean had loved and cared for Boo Woo, a German Shepherd Rottweiler mix, for five years. But Sean was now in his mid twenties and about to enter a school and move in with his girlfriend, who'se apartment did not allow pets. He had to start school in September so he had started considering what to do about giving up Boo many months before, as he should, since finding a place for an animal to live is even harder than finding a living place for a human. He started calling around to animal shelters, rescue groups, and veterinarians to see if he could find anyone who would want a 5 year old, 70 lb, perfectly wonderful sensitive sweet dog. No, no, no is all he heard.
Desperate and now beginning to contemplate giving Boo to New York City's Animal Care and Control, where, given Boo's age and size, the sweet dog would probably be euthanized. That's when Sean was referred to the Safety Net Program. We explained to Sean that there was no "quick solution" to separating from one's pet animal. We offered to assist Sean find a new lifetime home for Boo but that Sean would have to cooperate and put in some personal effort as well. What kind of effort Sean asked? Well, since there is always no room available at any shelters he would have to find a way of keeping Boo until we found a lifetime home. "How long would that be?" asked Sean. Naturally, no one can predict the answer to that we told him but we assured him that eventually every animal gets adopted. So it is not a matter of "will a home be found" but rather "how long will it take?" After speaking with the Safety Net coordinator and listening to his options Sean decided that he was not going to be the reason for Boo's death, and if there was a chance that something could eventually work out he would try it. Sean and Safety Net came up with a plan. Sean would keep Boo at his mom's house, but because his mom was unwilling to care for Boo, Sean would go there every morning and every night to walk and water and feed Boo. Safety Net would take pictures of Boo and list him on rescue groups' websites. Sean would make up a flyer and continue to post it all over town, at subway and bus stops, dog runs, laundremats, the Home Depot, Wal Mart, anywhere people converged.
A month or so later Sean was getting disappointed that no one had even called to meet Boo. He called Safety Net and asked if there were any enquiries from the web listings. The answer was no, always no. Two months later, he called again, only to be more disappointed. But Safety Net kept assuring him that this is normal, not to get disappointed and just go on with his life, keeping up the daily routine of going to his mom's to care for Boo twice a day. Three months later finally there was a call or two. One family in Queens wanted to meet Boo. Sean's hopes were up. The family had a private house and 2 young children and Boo is great with kids. Safety Net and Sean took Boo to the prospective family for the introduction and the family loved Boo. How could anyone not love Boo? The answer was yes, so a few days later Boo was re-taken to the family for the adoption. Pictures were taken and everyone was happy, especially Sean.
One week later the family called Safety Net and said that their younger child was acting up since Boo came and that he was acting like a brat with fits of jealousy. They said Boo was a perfect dog but that their child was at fault and they had to give Boo back. Devestated, Sean went to the family's house again and took Boo back to his mom's. Safety Net tried to console Sean and assured him that this was not unusual. After all, some people even betray their pets just because they are having a baby and have their animal killed at the vet or at the pound ? Others get a puppy and after a few months of using it as a toy, come up with phony excuses such as it "grew too big," or claim "allergies" to justify their usage of the animal as a toy to now be "gotten rid" of because "there is no room." Sean agreed and patiently went back to his routine of caring for Boo from his mom's house. Two months later a retired couple wanted to meet Boo.
Sean was by now anything but optimistic. To his surprise the couple fell in love with Boo and after having waited five months, within a day or two Boo had a brand new loving family. The couple's grandchildren adored Boo every weekend. And Boo lived happily ever after. Sean still visits Boo a couple of times a year. In retrospect Sean had realized that, considering the fact that he was so close to taking away the only thing Boo had, his life, it was not that big of an inconvenience, as Spike Lee would say, to "do the right thing."
THE STORIES OF THERESA & CABLE, DALIA & BABY "I'm moving and the new place does not allow pets"; "my child is allergic"; "the dog grew too big"; are some of the two dozen common "reasons" people surrender their pet to AC&C. At AC&C, we not only create happiness by bringing pets and people together, we create happiness by helping pets and people stay together through difficult times. The way we do this is through a program called Safety Net. The goal of Safety Net is to reduce the number of pets surrendered to AC&C by giving people the resources they need to help alleviate the pressure they may feel to surrender their pet. How is this done? Let me give you a couple of examples.
A pet owner feels he must relinquish his pet because he cannot afford to board the animal while he is in transition from one address to another. By referring him to a low­cost boarding facility the pet owner may be willing to board the animal for a few months until the new home is available. Another example involves a landlord who suddenly demands that a tenant get rid of her pet. The owner may not be aware that be­cause she has had the pet for more than 90 days, she has the legal right to keep the pet without fear of retaliation. Free legal repre­sentation helps protect the rights of pet owners. Then there is the person who is concerned that the constant sneezing of his child is the result of an allergy to the family pet. What if a free allergy test could medically determine the pet was not the source of the allergy? Often owners bring an animal to AC&C because the pet is sick, and they feel they cannot afford veterinary care. What if there was a special fund to help such a person? Providing an emergency interest free loan that is re­payable at a low $10 per month would get the animal the necessary treatment so it can stay with his owner.
This is exactly what happened to Theresa N. Theresa's dog, Cable, had stopped eating, and become lethargic and appeared sick, but Theresa was not working and simply could not afford to go to a veterinarian. So she brought Cable to AC&C. When Theresa learned about Safety Net she agreed to accept a loan that would let her take her pet to a veterinarian. That same day Theresa took Cable to one of AC&C's partnering veterinarians who, for a mere $82, treated an infection that had almost caused Cable's unnecessary surrender. Safety Net also saved AC&C an estimated $175, the cost to intake, care for, and euthanize or adopt an animal. A bad situation was suddenly turned into a win­win situation for everyone! That is how we create happiness! Dalia L. has a dog that she adores, but her dog's tendency to pull toward people while on a leash, combined with Dalia's bad back, caused her to consider surrendering the dog. After giving Dalia a special $20 dog collar and a little training that gives her effortless control over her dog during walks she decided she could now keep him. Dalia did not have the $20 at the time, but she did repay Safety Net two weeks later.
These are just a handful of the hundreds of people and pets that have been helped by Safety Net. The life-saving, crisis- solving power of this program is amazing. Safety Net Program is another tool that is being integrated into the successful "model" animal control program of the 21st Century. Safety Net is already being replicated in other communities around the country. If you would like to help support Safety Net, please send your tax deductible donation for New York City Animal Control's Safety Net Program, PO Box 656712, Fresh Meadows, NY 11365.